Project:
Seven Golden Rules
Project Partner:
Tobias Kind, Oliver Fiehn
Results:
Tobias Kind, Oliver Fiehn
Seven golden rules for heuristic filtering of molecular formulas obtained by accurate mass spectrometry.
BMC Bioinformatics 2007, 8:105
Download the open-access article here [
PDF
]
Provided project software:
Parts of the software are published under the Creative Commons (by) license. This license lets others distribute, remix, tweak, and build upon your work, even commercially, as long as they credit you for the original creation. The 7GR EXCEL + HR2 software was recently validated with EXCEL 2003 and WIN XP as well as EXCEL 2007 and VISTA Ultimate 64bit.
Download the supplement data and CC-by project software here [LINK]
Picture service:
All text and pictures from the 7GR on this website can be freely downloaded and reused via the CC-by
Download the picture archive with 44 example graphics as [ZIP].
Short Introduction:
The Seven Golden Rules are used on our laboratory to overcome the problem of wrong molecular formula
assignments from LC-MS, GC-MS, FT-ICR-MS data. They were developed for research and advances in structure elucidation of small molecules. Follow the navigation on the left for some additional comments and experimental data.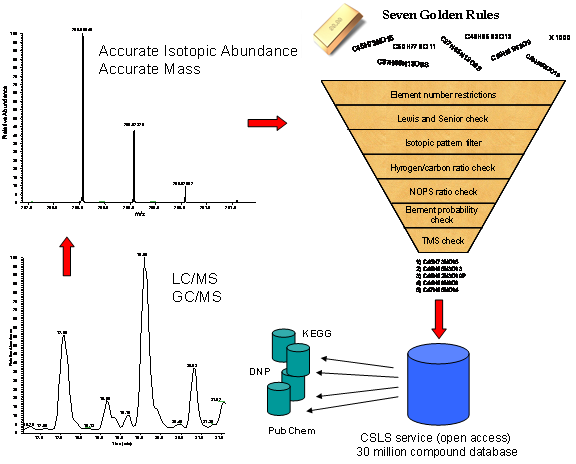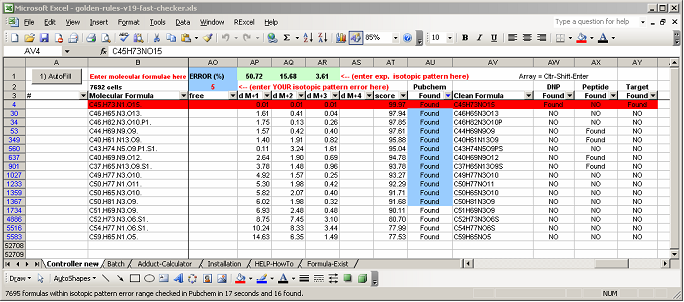 (All text and pictures from the 7GR on this website can be freely downloaded and reused via the CC-by
Links to external software used in the project:
Programs:
Databases and Services (updated):
The CACTUS - Chemical Structure Lookup Service (CSLS) - from NCI and Chemnavigator
The PubChem database (free) - download the whole PubChem DB here: PubChem FTP
The Dictionary of Natural Products ($$$$) Web version and SDF version from Informa PLC
The KEGG database (free)
The peptide DB and metabolome DB (free)
The NIST and WILEY mass spectral database ($$$$)
The DrugBank database (free)
The BioSpider service (free)
The MDL Beilstein database ($$$$$)
The CAS database ($$$$$ academic or $$$$$$ commercial)
The ChemSpider DB (free) - largest information enhanced DB with mass spectrometry API