---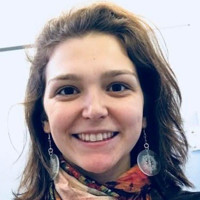 PhD Student
UC Davis Genome Center - Metabolomics
GBSF building room 1300
451 East Health Science Drive

Davis

CA

95616

This email address is being protected from spambots. You need JavaScript enabled to view it.
RESEARCH INTEREST:
Food, nutritional and enviromental metabolomics

Metaboloic pathway mapping

Development and validation of Biomarkers

Improving compound ID in untargeted metabolomics
EDUCATION
Tufts University, Friedman School of Nutrition Science and Policy, Boston, MA May 2017
Master of Science (M.S.) in Biochemical and Molecular Nutrition
Tufts University, Medford, MA May 2015
Bachelor of Science (B.S.) in Chemistry
RESEARCH EXPERIENCE
University of California, Davis September 2018-present
NIH West Coast Metabolomics Center
Fiehn Laboratory
Graduate Student Researcher
Genentech, South San Francisco, CA February 2018-April 2018
Drug Metabolism and Pharmacokinetics (DMPK) Department
PK/Transport Group
Research Associate
University of California, San Francisco, San Francisco, CA July 2017-December 2017
Department of Medicine
Division of HIV, Infectious Diseases, and Global Medicine
Hair Analytical Laboratory
Laboratory Assistant II
USDA Human Nutrition Research Center on Aging, Boston, MA October 2015-May 2016
Antioxidants Research Laboratory
Graduate Research Assistant
Tufts University, Medford, MA October 2012-August 2014
Department of Chemistry
Bennett Laboratory
Undergraduate Research Assistant
PUBLICATIONS
Issa, J. P.; Lloyd, D.; Steliotes, E.; Bennett, C. S. (2013) "Reagent Controlled β-Specific Dehydrative Glycosylation Reactions with 2-Deoxy-Sugars." Org. Lett. 15 (16), pp. 4170–4173.
LABORATORY SKILLS
High-performance liquid chromatography (HPLC), Mass spectrometry, Liquid chromatography-tandem mass spectrometry (LC-MS/MS), Nuclear magnetic resonance spectroscopy (NMR), Flash column chromatography, Thin-layer chromatography (TLC)